ORCHESTRA CONCERT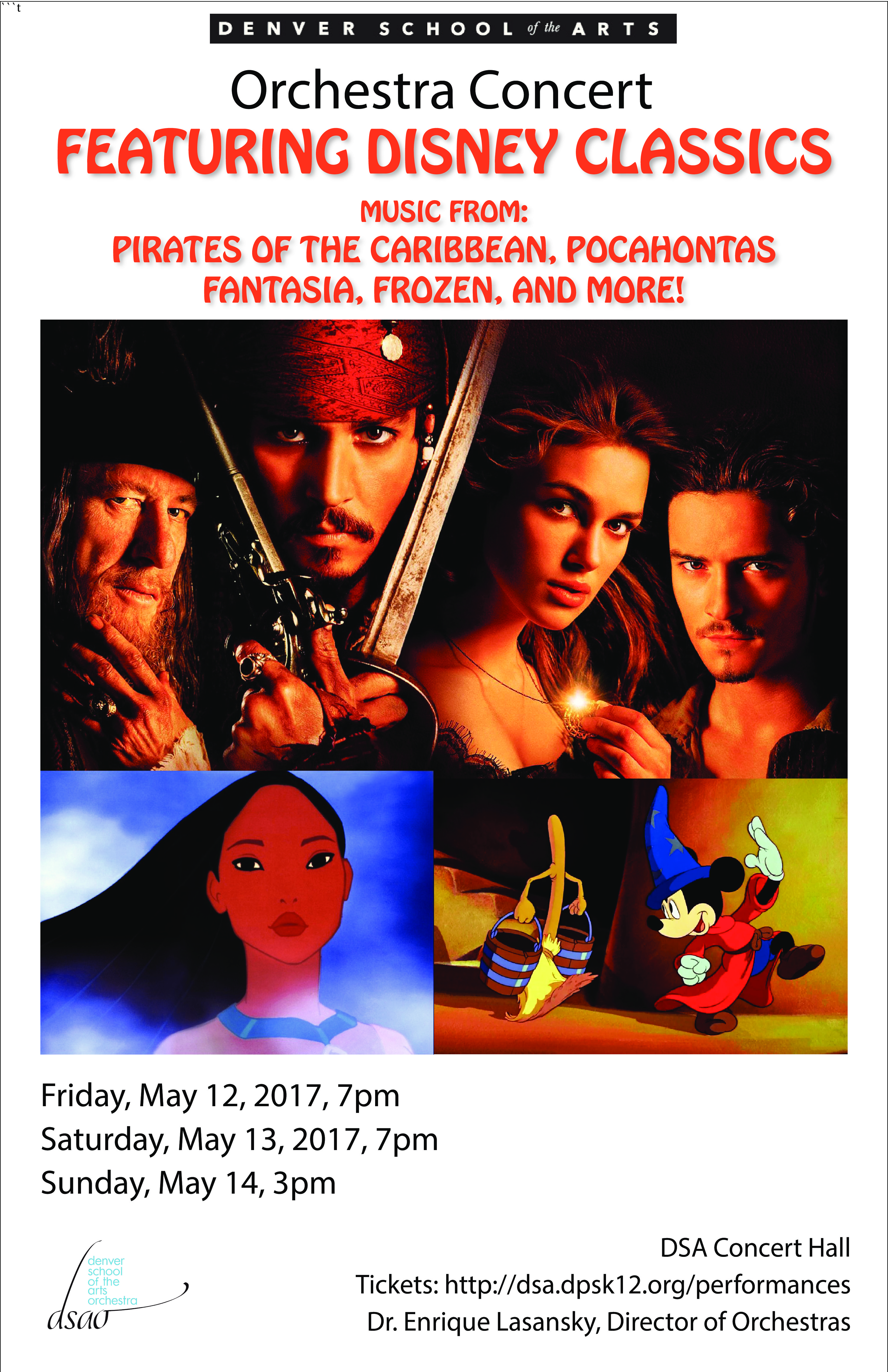 FRIDAY, May 12 – 7:00 pm
SATURDAY, May 13 – 7:00 pm
SUNDAY, May 14 – 3:00 pm
DSA CONCERT HALL
TICKETS: Adults: $14.00
Students/Seniors: $10.00

Join us for the Orchestra Department's last concert of the year. They will be celebrating the music that has accompanied Disney movies through the generations featuring music from movies such as PIRATES OF THE CARIBBEAN, FROZEN, POCOHANTAS, FANTASIA, and many others.
ORCHESTRA CHAMBER CONCERT
FRIDAY, April 28 – 7:00 pm
DSA CONCERT HALL
TICKETS: Adults: $14.00
Students/Seniors: $10.00

The Chamber groups from the Orchestra Department will be playing the music of Dvorak, Lutoslawski, Beethoven, Vivaldi, and Mozart for your enjoyment.
SATURDAY, March 4  – 7:00 pm
SUNDAY, March 5  – 3:00 pm
DSA CONCERT HALL
TICKETS: Adults – $14
Students/Seniors – $10
Written in 1918 by Igor Stravinsky, L'HISTOIRE DU SOLDAT or The Soldier's Tale was conceived as a dance, music and spoken piece for three actors, additional dancers, and an ensemble of musical accompaniment. A tale that has been repeated in song and legend, our soldier trades his fiddle to the Devil for untold wealth and then regrets this foolhardy move. He gains wealth, but loses love and contentment until he figures out a way to get his fiddle back. But even that doesn't work out too well for him. Come see this rarely produced morality piece featuring a collaboration of the Orchestra, Dance, Theatre, and Stagecraft departments.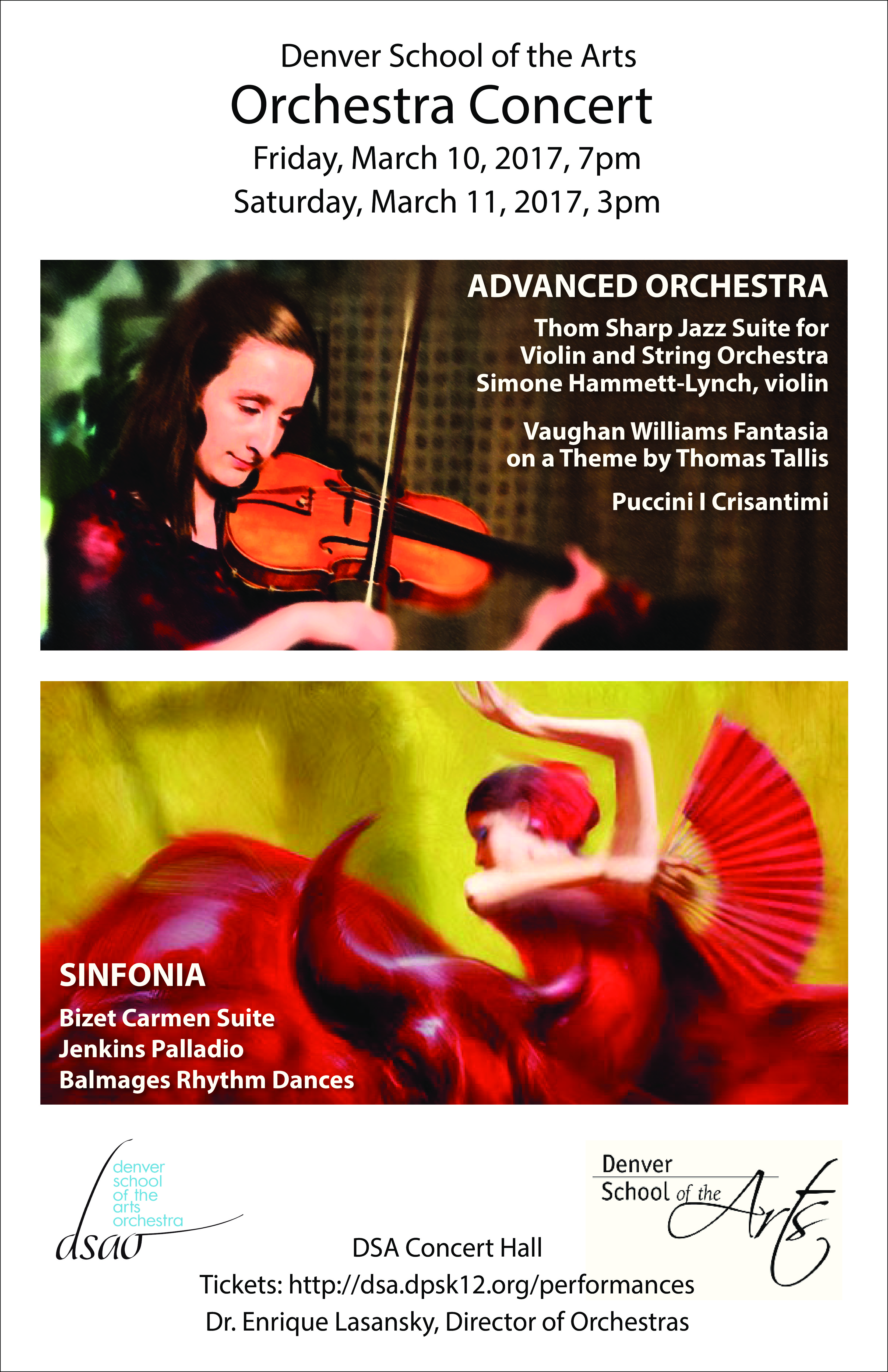 DSA CONCERT HALL
FRIDAY, March 10 – 7:00 pm
SATURDAY, March 11 – 3:00 pm
TICKETS: Adults: $14.00
Students/Seniors: $10.00

The High School program includes FANTASIA ON A THEME BY THOMAS TALLIS composed by Ralph Vaughan Williams in 1910. The original melody by Tallis (1505-1585) was part of the English Renaissance movement and was written for the Archbishop of Canterbury. A popular classical piece, it was also used in the soundtrack of the movie MASTER AND COMMANDER. It will be followed by JAZZ SUITE FOR VIOLIN AND STRING ORCHESTRA composed by Thom Sharp and will feature Senior Violinist Simone Hammett-Lynch in a piece that encompasses swing, a jazz ballad, and a finale of pure jazz. Their final offering will be I CRISANTIMI (Chrysanthemums), an elegy which was written by Puccini in a single night as a response to the death of his friend, the Duke of Savoy, Amadeo I of Spain.
The Middle School program will feature the CARMEN SUITES which are drawn from Georges Bizet's 1875 opera CARMEN. After Bizet's death, his collaborator Ernest Guiraud compiled these pieces for Orchestra. PALLADIO was written by Karl Jenkins in 1995 in homage to the 16th century architect Andrea Palladio whose work epitomized order and harmony. PALLADIO has also been used in a TV commercial for DeBeers Diamonds. The final piece for the Middle School program is Brian Balmages' RHYTHM DANCES. Balmages is a prolific contemporary composer, conductor, and musician who maintains an active schedule of teaching, conducting and composing for honor bands. His RHYTHM DANCES is a wild dance that will take you on a rhythmic roller coaster.
SENIOR RECITALS
The following students have scheduled their Senior Recitals:
ELI CASTRO and RACHEL ENGLAND (Band and Orchestra) – Wednesday, March 8 – 7:00 pm
GREER RAMSEY-WHITE and EMMA COHEN (Orchestra) – Monday, March 13 – 7:00 pm
SIMONE HAMMETT-LYNCH (Orchestra) – Thursday, March 23 – 7:00 pm
ARIANNA MONTOYA-GARCIA (Orchestra) – Friday, March 24 – 7:00 pm
ARTUR KOROTIN (Orchestra) –  
April 6 – 7:00 pm
CORLEY FRIESEN-JOHNSON (Orchestra) –  
April 11 –  5:00 pm
GABE RUPE – April 16 – Dazzle
DSA CONCERT HALL
TICKETS: FREE EVENT
Senior Recitals are a rite of passage of our performing arts seniors; all events are free and open to fellow students, family and friends. This is a chance to see how far our Seniors have progressed toward a truly artistic life after school. They deserve your congratulations.
FRIDAY, January 20 – 7:00 pm
SUNDAY, January 22 – 3:00 pmDSA CONCERT HALLTICKETS: Adults – $14
Students/Seniors – $10



This concert combines the talents of both the full Band and the full Orchestra in a magnificent evening of music. Dr. Lasansky will conduct Antonin Dvoraks' classic EIGHTH SYMPHONY IN G MAJOR which is a lively representation of the folk music he loved growing up. Mr. Hammond will be conducting Maurice Ravel's popular BOLERO, a piece originally commissioned as a ballet which came to stand on its own for its rhythmic melody. An evening not to be missed.Events in the Concert Hall frequently sell out quickly. Please don't miss out on this concert because you forgot to buy your tickets on line early.

Saturday December 10, 7pm
Sunday December 11, 3pmThe first half of this evening of glorious music will feature the Middle School students playing selections from Mozart and Dvorak as well as the Harry Potter theme. The High School orchestra features Frank Nowell from the Baroque Chamber Orchestra, playing a Bach Concerto for Harpsichord, as well as music of Takashi Yoshimatsu and Queen (featuring Mia Herlinger).
2nd Annual Winter Orchestra Silent Auction: 
6pm through Intermission on Saturday December 10.

Middle School
Mozart Magic Flute Overture
Led Zeppelin Reunion
Harry Potter arr. Story
Dvorak New World Symphony mov. #4 (Monday)High School
Atom Heart Club Suite # 1
Bach Harpsichord Concerto in d minor (complete)
And the Birds are Still
Bohemian Rhapsody Mia Herlinger violin solo
2016-2017 DSAO Performance Schedule 
| Date | Title | Time | Location |
| --- | --- | --- | --- |
| Saturday 3/4/16 | L'Histoire du Soldat | 7:00 PM | Concert Hall |
| Sunday 3/5/16 | L'Histoire du Soldat | 3 PM | Concert Hall |
| Friday 3/10/17 | Orchestra Concert | 7:00 pm | Concert Hall |
| Saturday  3/11/17 | Orchestra Concert | 3:00 PM | Concert Hall |
| Friday 4/28/17 | Chamber Concert | 7:00 PM | Concert Hall |
| Friday  5/12/17 | Disney/Pops Orchestra Concert | 7:00 PM | Concert Hall |
| Saturday  5/13/17 | Disney/Pops Orchestra Concert | 7:00 PM | Concert Hall |
| Sunday 5/14/17 | Disney/Pops Orchestra Concert | 3:00 PM | Concert Hall |